The video platform's small-business head offers some best practices for creating content and turning it into sales.
Some business owners still have a perception that TikTok is little more than a repository of videos of teenagers singing and dancing. But the platform — which now has an estimated 73.7 million monthly active U.S. users — can in fact be a vital tool for engaging with your customers and finding new ones.
Given TikTok's vast audience and relatively novel format, getting started can feel intimidating. Later this year TikTok will be launching an SMB Academy to help small businesses with the app: Participants will learn how to properly use effects in their videos, find the best music, create clear objectives with TikTok campaigns, and implement other best practices. Until then, here are helpful tips from Danielle Johnson, the head of SMB account management for North America at TikTok, as well as business owners who have found success with the app, on how you can grow your brand's presence and turn it into tangible returns.
1. Be a user yourself
Before joining the small-business team at TikTok, Johnson was a user of the platform. Her first piece of advice is to join yourself and see what's trending. Select some hashtags that are relevant to your business and see the types of videos that are trending for them. Compare your feed with a friend's to better understand how the site uniquely targets a customer's tastes and habits. "The more you know the community, the better," Johnson says.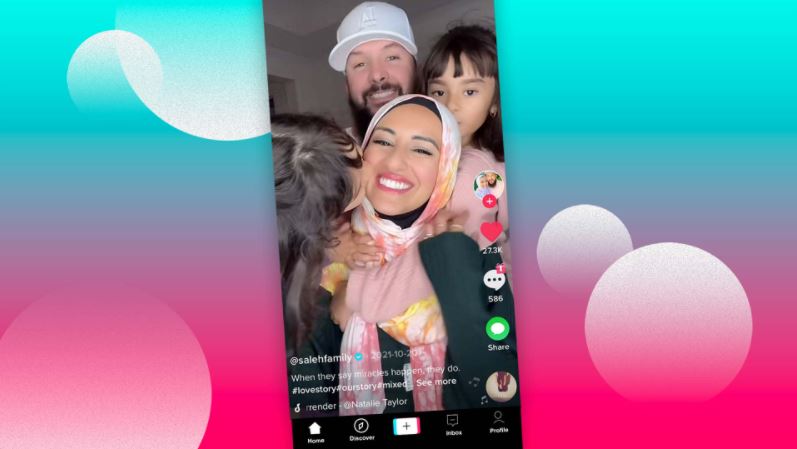 LaLa Hijabs is a great example of this advice in action. Founders Sana and Will Saleh, a social worker and aircraft maintenance engineer, respectively, created a TikTok in January 2020 to educate audiences about their Muslim faith and culture. At the same time, Sana began buying dyes from Walmart to create her own tie-dye hijabs, which she wore in the videos. Soon viewers began asking in the comments where she got her hijabs. That's when the light bulb went on to create a company.
"We knew nothing about business, and e-commerce was completely foreign to us," Sana says. "When we saw the response from people, we sat down and were like, 'Why don't we go all in?'" Now, the Toronto, Ontario-based e-commerce business has become their full-time job, and they are aiming to open stores in U.S. major cities. The Saleh family has received a total of 44.5 million likes for their videos, has 1.6 million followers, and has gone from operating in a spare room of their house to opening a warehouse.
2. Create content specifically for TikTok
Forget about conventional, well-polished 15-second video advertisements. Johnson urges small businesses to instead design content specifically for TikTok's platform. Elements like the music, the For You page (the homepage for new video content), and community engagement — users can, for example, respond to a video with their own "duet" video — make it distinct from other social platforms.
Johnson cites Dallas-based banana milk brand Mooala, which modified its branding strategy to fit the TikTok community, as an example. It introduced a company mascot (a koala), partnered with influencers to help spread the word about the company on the app, and created its own hashtag that now has 2.1 million views. In the past month, Mooala has seen a more than 65 percent increase in video views, Johnson says.
3. Build a viable community to become viral
The For You page can level the playing field for smaller brands, Johnson says, allowing them to reach consumers that don't follow them. And keep in mind that often the comments section on a TikTok video is just as important as the content itself. For LaLa Hijabs, the discussion has been crucial for building a community on the platform, and ultimately, for their e-commerce strategy. "We've had such an incredible response from non-Muslims," Will says. "Their minds and hearts are being opened. Had it not been for TikTok, I don't know how we would have advertised or spread awareness."
4. Use TikTok's tools for online and offline success
TikTok can spur immediate sales: Its Shopify Storefront feature now allows consumers to buy directly through the app. Users have even turned their shopping habits into entertainment — the "What TikTok Made Me Buy" hashtag currently has 17 million views.
One success story Johnson offers is that of Justin Baer, the founder of menswear brand Collars and Co., which has nearly 32,000 followers on the app. Baer started last April with a video recorded by his 7-year-old daughter on an iPhone, which got 50,000 views by the end of the day. Since generating $40,000 in the first month following the release of the video, the company's sales have increased an average of 40 percent a month.
The entrepreneur recommends small-business owners start simple. "I think people get caught up in being perfect," Baer says. "Just get it out there and test it. TikTok is a great proving ground." 
Article Credit : Hannah Hall / Inc.